NEVER CHANGE A WINNING TEAM!
This is us.
We do what we love - with passion - for people who love what we do: Hair combined with extensions, the reflection of the soul!
The glorious 5: 5 extensions specialists in the secret society team Duisburg. On a total of 250 square meters we make women's hair dreams come true. Breathtakingly beautiful deluxe hair extensions & hair thickening based on keratin bonding & tape-in method as well as creatine smoothing & hair coloring have a name here: ...the secret society.
Our team advises: Say "yes" to being happy & inner harmony!
Do not chase your happiness any longer! Dare to take the step to extensions: discover your individual type and your manifold, possible type changes. At the beginning of your decision is certainly some courage, but at the end most certainly happiness. Make clear what you - for what reasons - would like to achieve for your hairstyle with extensions and then talk to us - the team ...the secret society - about your individual possibilities. Our professional type check consultant team will be happy to advise you at any time & reveal all tips & tricks.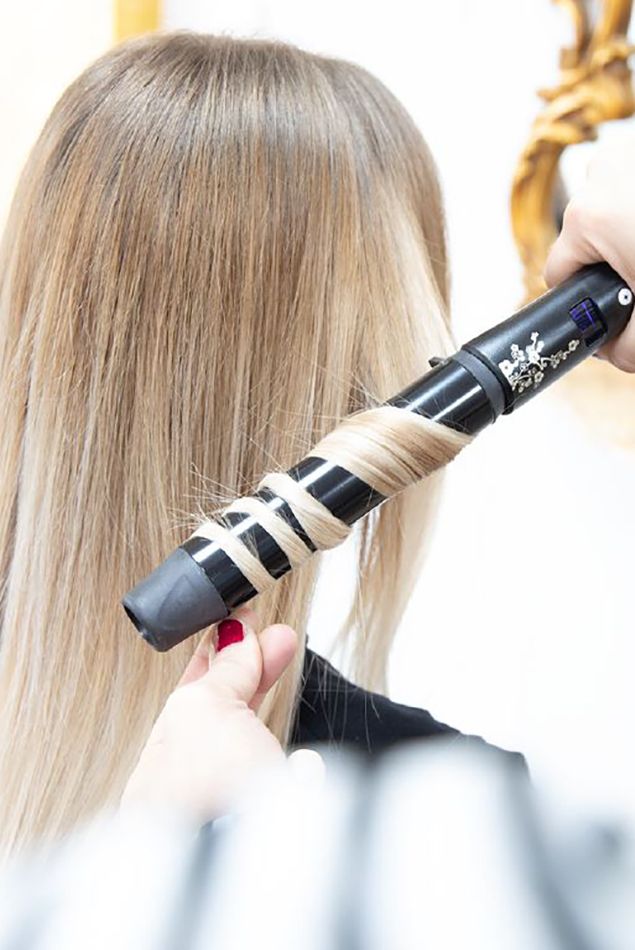 Consultant team for your type-check. Your relaxed head!
Our motto is quite simple: If you are at the end with your hair frustration, you should dare the step to extensions! You intend to change your hair styling - to improve your charisma, maybe even turn both completely upside down, but you just don't know how? Then you - dear customer - have come to the right place. We from the ...the secret society type-check consultant team are your extraordinarily creative spirits and masters of your self-dramatization through our magical extensions.
Our team recognizes your hair styling needs, when your soul speaks, "Finally, time for me & that in a relaxed atmosphere.
" Basically, we make everything possible - from excitingly simple to interesting to extravagant. Whether for very special occasions or simply more positive charisma in professional life- and thus for more professional success. We have the right thing for every type & every everyday, festive occasion - which should promise success for you - and draw - for you & with you - from the full extensions know-how for:
Special Events - Weddings - Proms - Parties - Birthdays & much more.
But especially for the new, fresh wind in the partnership, as a surprise in the various phases of a partnership or on the way to a new dream partner! The analysis of your hair structure is an important part of our consulting service. This gives us information about the condition of your hair & your scalp. After determining your hair & scalp type, we clarify together with you which extensions fit you & your hair.
Talk to us about the 3 Ws: the WHAT you want to achieve with extensions for your hair - the WHY you want to achieve it & the WHY? Because successful people know: WHAT you want - WHY you want to do it – You are open for a new challenges - Don't get distracted from your goal - So stay on the ball & would ultimately focus on the extension result! Successful people just think out of the box, "Why not extensions anyway?" Because that's how you increase your motivation & step by step you approach your hair dream. Describe your desired styling & visualize it. What image are you aiming for? Which hair length? Which hairstyle? Which quality?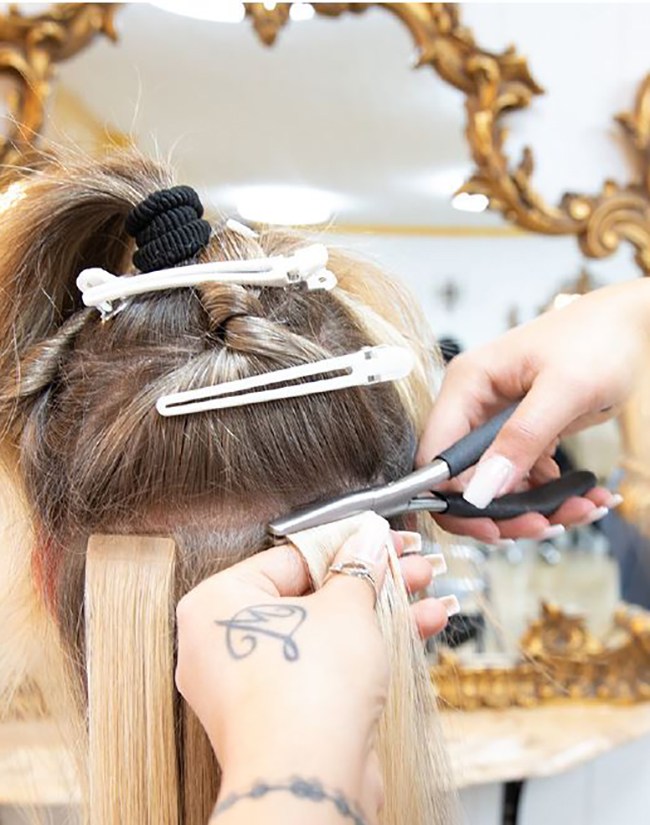 Bring your inner radiance to shine with us!
We from the team ...the secret society assure you: With extensions you can work specifically on your external appearance and we will realize this for you. Gain more positive radiance through extensions, because people who embody a strong charisma, have the great gift to win others for themselves.
You will soon notice that extensions are the key to success for you in every aspect.
The power of the team is each individual team member. The power of the team is as strong as the individual.
Phil Jackson: US-American basketball coach
If you want to know what true team spirit is all about, take a look at our salons. Teamwork is very important to us& we as team players are proud of the harmony of our team, which is always confirmed by our customers. We as a team stand for: Individuality - Creativity & Premium Quality and realize - on this basis - holistic & highest quality extension solutions. Innovation & team spirit, super service & best connections to you - dear customers and dear ...secret society partners - are values we live with heart & passion.
These 3Ts will make your life easier. Because life doesn't take your feelings into account!
EXTENSIONS for:
More positive charisma as an expression of your personality!
EXTENSIONS for:
More positive charisma through your newfound self-confidence!
EXTENSIONS for:
Authentic, i.e. credible friendliness!
EXTENSIONS for:
More charisma - that is, more winning charisma - and goal orientation in our salons!
OUR TEAM PERFORMANCE:
Your extensions fitting exactly to your type & character as a success criterion of your self-perception!
Our Team Motto: Love is in the Hair
Trust this motto and let our team inspire you! We have the imagination, the fantasy & the empathy for your individual extension solution. Just take this - for you maybe - new idea and treat yourself to a bit of joy through ...the secret society-Extensions.
We know that satisfied customers are happy to come back.
A key aspect of our success is most definitely the trust our clients place in our team & HOW we say it. When it comes to you - dear customer - we let nothing distract us. You are the focus of our fullest concentration. This is how we make your extension dreams come true. Because only satisfied customers can trust our company ...the secret society and its brand. Our customer testimonials and customer satisfaction and the associated success speak for themselves!
Because: SUCCESS IS LIKE A FIREPLACE, YOU MUST CONTINUOUSLY REPLACE IT! FRED AMMON: APHORIST
Yes - EXTENSIONS is a magic word! Because as a rule, the motto of the ...the secret society team is: Once extensions - always extensions. A little bit of magic is involved. It is the MAGIC OF THE SPECIAL MOMENT: A BEAUTY IDEAL
The smile on the faces of our many clients after the EXTENSIONS AHA effect could rekindle an extinguished fireplace! This smile radiates warmth, comfort, inner contentment, joy & happiness, as if by a fireplace. Not only lifestyle-oriented people with the highest quality standards can be inspired by our team. For us - the team ...the secret society - extensions are the contemporary & very modern expression of beauty - yes - the holistic beauty ideal for face & body and:
SOME BEAUTY IS ALWAYS A JOY!
Never change a winning team!
Ayse Nur Akbulut
Because we are a team that sticks together, supports each other & is on the road to success. Over the last few years, the guiding principle "Never Change A Winning Team" has become a matter of heart for me - as founder & team manager. Because a good team is much more than the sum of its members! It behaves like:1 + 1 makes 3 and as we all know, many heads think better than just one. We all work successfully - hand in hand - and have fun & joy doing it! Behind every successful company are dedicated employees. And so it is with ...the secret society. My employees are the decisive part of my success. I am proud of our team!
OUR TEAM SPIRIT: WHO WORKS ALONE, ADDS. WHO WORKS TOGETHER, MULTIPLIES.
... Secret society team strengths
ALLROUND-EXTENSIONS-TEAM-STRENGTHS FOR THE WHOLE YEAR
"Showing diversity" - This is our motto.
Every personality expresses itself through the diversity of its identities. We at ...the secret society-All-round-Team loves this diversity of identities, because our strengths are to express these identities through extensions - for you. Our personality is changeable throughout our life and psychologists confirm this. We from the ...the secret society-All-round-Team would like to show you here our whole Extensions-Variety & Versatility and that for a beautiful appearance in your life.
Extensions & the 4 phases of the seasons
Extensions are the perfect year-round program and we - the ...the secret society team - are the extension experts with the strengths to implement this program for you all year round. The 4 seasons are living changes for us. Each season awakens different feelings of happiness, just like the feelings of happiness at the beginning of spring. Be it winter - spring - summer or autumn. Just as the seasons - quite naturally - bring changes, people emotionally adapt to the seasons and also want changes: Authentic mood changes! In this sense, with extensions you are always on the right track to perfect changes. Extensions are the wonderful companion through the 4 phases of the seasons. Use our strengths!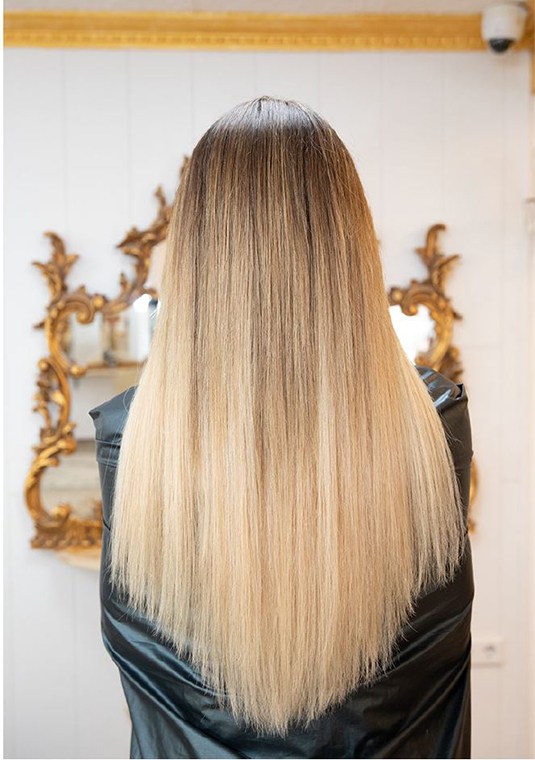 Extensions & butterflies in the stomach
Awaken to new life, just as nature shows us in spring after the long winter & your hormone balance is really shaken up again! In spring not only we humans awake to new life, but also the animal and plant world - and that in full splendor. With extensions you live out the well-known feeling of "butterflies in your stomach" at the highest level and our strength is to help you do it! The secret society team will fulfill your extensions needs according to design, color & shape.
Happiness coordinated with seasons & occasions.
Contact your Secret society team for extensions trend styling: matching any season - matching the perfect office styling - matching the perfect vacation look - a matching hot season look - matching any occasion! The perfect, professional & type-appropriate extensions hair finish completely individually tailored to you - dear customer.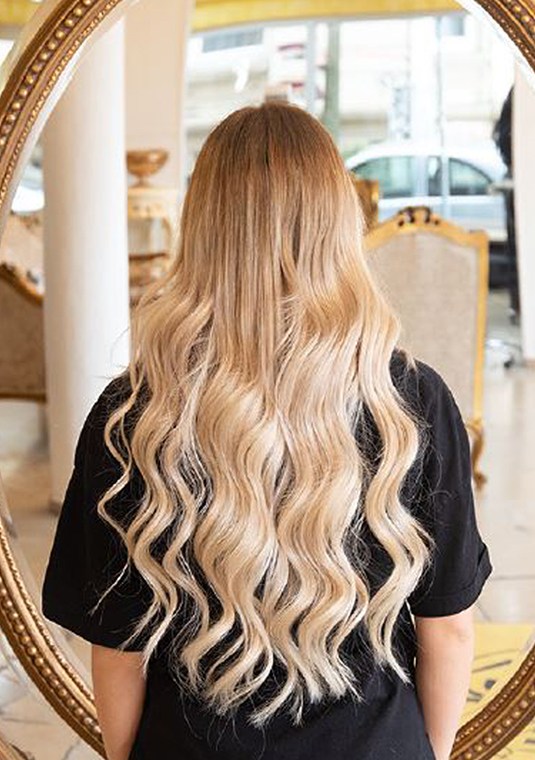 Perfect Extensions for the perfect woman!
So that you not only look pretty every day, but you also feel life in a more self-confident personality. Because as the Cologne people say so nicely: Et kütt, wie et kütt and as the saying goes:
ONE MUST CELEBRATE THE CELEBRATIONS AS THEY FALL
And that's exactly what we - from ...the secret society- Allround -Team - are here for you!
The highlight of every Extensions event is when the others are amazed!
YOUR ...the secret society-ALLROUND-TEAM - YOUR EVENT SPECIALISTS!
EXTENSIONS & EVENTS: WE HAVE CONVINCED YOU!
Events - Parties & more: Anyone can celebrate! But do you also have the appropriate perfect extension hair styling for it - perfect to the overall picture of your outfit? The overall appearance makes the success! Think about it! What does your discipline look like? What do your feelings say? What is your will? What are your inclinations? Dare the balancing act & experience the "before - after effect", through the use of extensions: an unforgettable experience!
Not only hair makes people!
Extensions make people & we are the experts!
It's never too late to do something for your appearance - and it's worth it, because not only great days should be remembered in perfect, lasting memories. Every day plays a big, often-decisive role!
The team with the strong Extensions ideas!
Our strength is to perceive each customer with her very individual wishes, goals & needs & to advise comprehensively. Therefore, we discuss with you your extension ideas, wishes & reasons - very personally in detail! We personally take a lot of time for the consultation. With extensions at heart, we inform you in comprehensive consultations about your possibilities for more attractiveness & well being through extensions.
With these strengthen points we with you:
Experts in deluxe hair extensions & hair thickening based on keratin bonding & tape-in method Botox smoothing & hair coloring.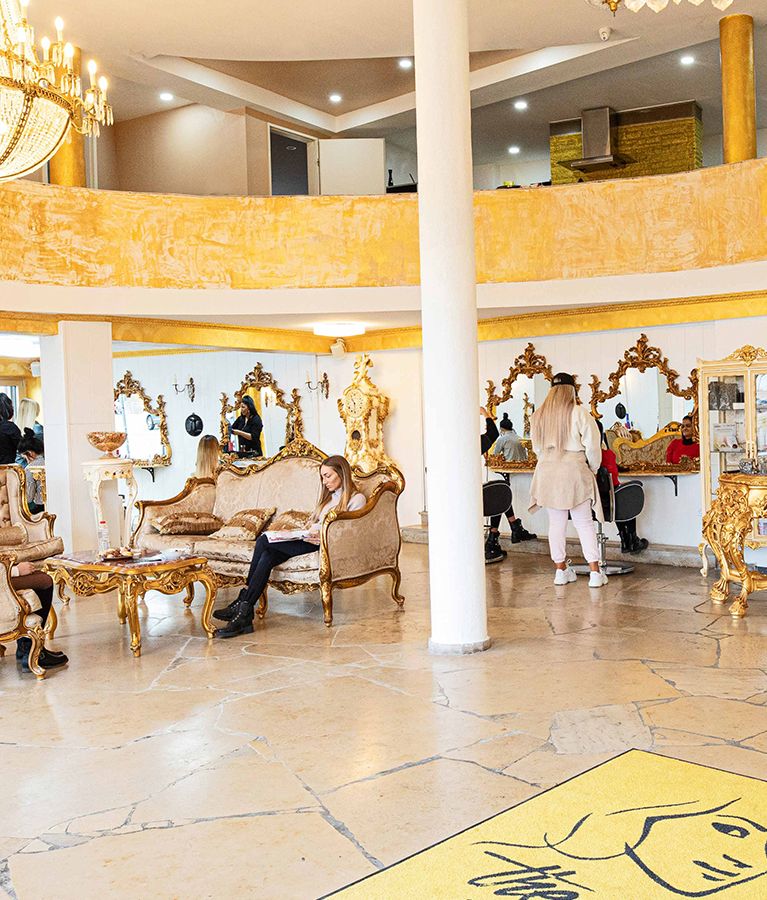 Hair makes people - our philosophy!
You as a customer are the focus - Your hairstyle is your status symbol & new luxury - Our focus is on your best styling result! As the saying goes, "My house - My car - My boat!". Let's add "My extensions!" as your extra class status symbol. Nowadays, pure luxury goods often no longer fulfill the very personal need for differentiation from other people. For some it is the luxury watch, the glamorous jewelry or the cell phone. For you, it's the extensions or maybe even a little bit of everything! This is how we present ourselves to the outside world!
Philosophy & philosophizing usually starts somehow in the middle of the turmoil of everyday life. The term philosophy in itself already sets a lot of hopes and expectations in people. One connects with it self-knowledge, changes, wishes, but also many big questions, like "What is good?" "What would be better?", "Why do I look the way I look and not different, maybe a little more attractive?", "Would I be happier with extensions and who would then be my best hair styling contact, yes expert for luxury & quality?" & much more. 
And here we are again on the topic of women & their hair dreams of gorgeous, long, full hair - of a sensual mane. Yes we are talking about changes, extravagant styles through extensions. With the secret society extensions you get a wealth of change possibilities, tips & new ideas.
Philosophie & Philosophieren beginnt meist irgendwie mitten in den Wirren des Alltags. Der Begriff Philosophie an sich setzt bereits sehr viele Hoffnungen und Erwartungen beim Menschen frei. Man verbindet mit ihm Selbsterkenntnis, Veränderungen, Wünsche, aber auch viele große Fragen, wie "Was ist gut?", "Was wäre besser?", "Warum sehe ich so aus, wie ich aussehe und nicht anders, vielleicht etwas attraktiver?", "Wäre ich mit Extensions glücklicher und wer wäre dann mein bester Hair-Styling-Ansprechpartner, ja Experte für Luxus & Qualität?" & Vieles mehr. Und schon sind wir wieder beim Thema Frauen & ihren Haar-Träumen von prächtigem, langem, vollen Haar – von einer sinnlichen Mähne. Ja wir sprechen von Veränderungen, extravaganten Styles durch Extensions. Mit ... the secret society Extensions erhalten Sie eine Fülle von Veränderungsmöglichkeiten, Tipps & neuen Ideen.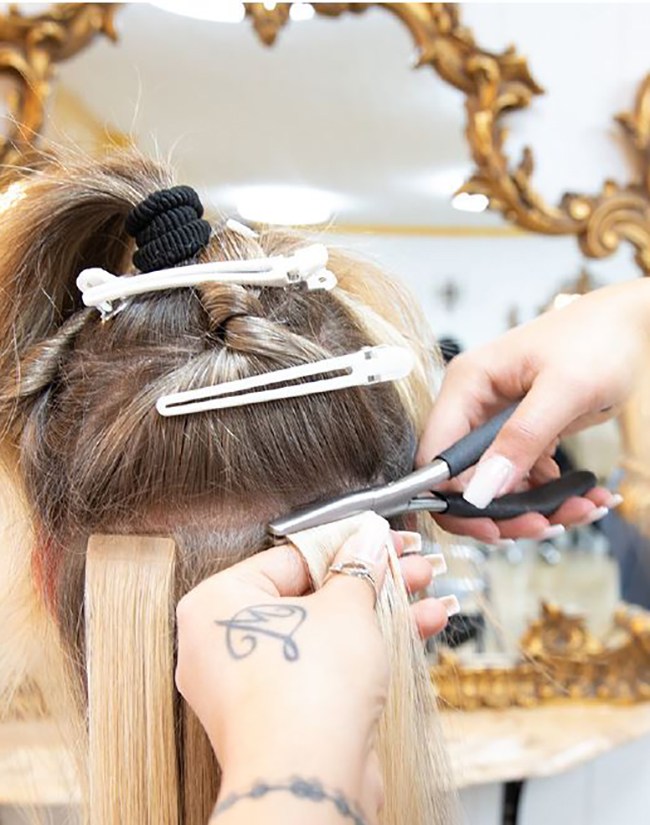 ...the secret society offers you professional "deluxe" hair extensions & hair thickening - based on keratin bonding & tape-in method - Botox straightening & hair coloring and even with a guarantee of durability - for you as a satisfied, happy & confident woman!
Whether you have short, long, curly, straight, thick, thin or fine hair!
Be inspired & transformed by long, thicker, colorful hair overnight. We are your professionals with heart & passion!
Simply make more of your type! Because hair length, shape & structure are - scientifically proven - a reflection of your personality!
As the saying goes: "Clothes make the man" according to the well-known novella by the Swiss poet Gottfried Keller, which takes place around the year 1830 and has not lost any of its topicality. But clothes we take off, hair & skin remain. Let's call the clothes "fashion". Hairstyle serves in our society as a status symbol as fashion.
In our society, respect & acceptance play a very important role. Both can be achieved through clothes & hair, whereby "hair" is clearly in the stronger league, because hair is - in general - not changed as often as clothes and this is certainly the strongest argument for a very good extension hair stylist, who will guarantee you your newly won hair splendor for a long time.
With extensions they can follow the latest trends long or short term, you are permanently "Up-To-Date". Just as you like it. With extensions you can express a distance to a possibly badly motivated attitude. Extensions can be your first new outward expression - your first path to more confident communication with your social circle through your new self-expression. Choose with ... the secret society-extensions your
new look! Every individual & every face is unique & special. Hair gives the face the appropriate frame. Human well-being is determined by the harmony of the state of soul, mind & body.
Mit Extensions können sie lang- oder kurzfristig den neuesten Trends Folge leisten, sind Sie permanent "Up-To-Date". Ganz nach Ihrem Belieben. Mit Extensions können Sie einen Abstand zu einer gegebenenfalls schlecht motivierten Haltung ausdrücken. Extensions können Ihr erster neuer Ausdruck nach außen sein – Ihr erster Weg zu einer selbstbewussteren Kommunikation mit Ihrem sozialen Umfeld durch Ihre neue Selbstdarstellung. Wählen Sie mit ... the secret society-Extensions Ihren neuen Look! Jedes Individuum & jedes Gesicht ist einzigartig & etwas ganz Besonderes. Haare verleihen dem Gesicht den entsprechenden Rahmen. Das menschliche Wohlbefinden wird bestimmt von dem Einklang des Zustandes von Seele, Geist & Körper.
The secret society has made it its mission to realize this harmony for you through extensions. Unique hairstyles through extensions that will benefit your type & personality. By choosing the right extensions we can make a big, decisive contribution to your mental balance, happiness & satisfaction. The decision for extensions is a very personal & private matter. Mostly subjective criteria play a very important role. Therefore, for ... the secret society an open & trusting climate - as a basis for a successful hair result - is the A & O.
Hair makes the man & clothes make the man. So it was - is - and always will be. But the decisive positive factor & aspect is the individual, inner feeling of harmony, which simply does you good and makes you happy. But not an egoistic thinking, in which the true good inner values no longer hold. Hair is simply an expression of beauty & passion.
The secret society has never lost sight of its philosophy to use high quality products that arouse emotions in you - dear customers.
Truly, extensions have a profound cultural background:
Already in the Pharaonic era, women were very concerned about their appearance and Cleopatra showed us all! Complex hairstyles - including extensions & colored hair - were already commonplace in the times of the ancient Egyptians. Hair splendor has always enjoyed a very high status and that long before the ancient Egyptian king Akhenaten of the 18th dynasty. His reign is dated around the time of 1340 - 1334.
So dare to think outside the box! Dare the magic work extensions & do it after the ancient Egyptians: The then noble & now cool extensions - image factor No.1!
Visit us in the fantastic extensions world & bring extensions into your life!