Extensions:
What you should know about hair extension
Cutting off your hair is very quick. But growing it back takes what feels like an eternity. Years can sometimes pass before the desired length is reached. And then there is no guarantee that the hair will also look healthy and radiant. A great way to use the waiting time for beauty is at The Secret Society, the hair salon you trust. Extensions are the magic word. With hair extensions, every woman can get closer to her dream of long hair in no time. After just one visit to the salon, even women with previously short hair can enjoy a ponytail.
Celebrities from all over the world have been living it for a long time: Extensions are in! They have so many advantages. A professional hair extension offers great opportunities to wear the new look and style in no time. Hair extensions are attached to real hair - in such a way that they look completely natural and are indistinguishable from your own hair.
How should I care for my extensions?
With the right care, you can help your extensions look great for a long time. There are a few tips to keep in mind: It's best to wash your hair twice a week - and with as little stress on the connection points as possible. Instead of holding the hair extensions upside down in the sink, it is better to care for them in the shower with special shampoos. The wet hair is not rubbed off, but only gently pressed with the towel. Then, an extension brush untangles the individual strands. At The Secret Society, we will of course show you how best to do this. Ideally, the hair should be air-dried. With shampoo, conditioner and co. care should be taken that; if possible, no alcohols and no silicone are contained. We offer guarantees only with our care products.
What are the advantages of human hair extensions?
Human hair extensions are particularly high quality and they come in a variety of colors. You can style them as easily as your own hair. Waves, curls or straight hair can be recreated at any time. Color and highlights in the strands complete the individual style. Unlike synthetic hair, top quality human hair braid extensions have an intact cuticle. This means that they do not mat! If you give your extensions the right care, you can use them several times.
Human hair extensions are available as tape, bonding's or clip. The easiest way to get thicker hair is with clips. Clip-in is inserted into the natural hair. They can also be removed again without assistance and inserted as needed. With tape extensions and bondings, a professional is needed to set the scene for the hair extensions. With both methods, the extensions remain in the hair permanently. Tape extensions are glued into the hair with a thin adhesive strip. With bonding extensions, the hairdresser wraps the real hair with the hair extension - strand by strand, which provides a natural look. Keratin is used in the process, which makes this method particularly gentle. For the layman, the bonding extensions are hardly distinguishable from your own hair.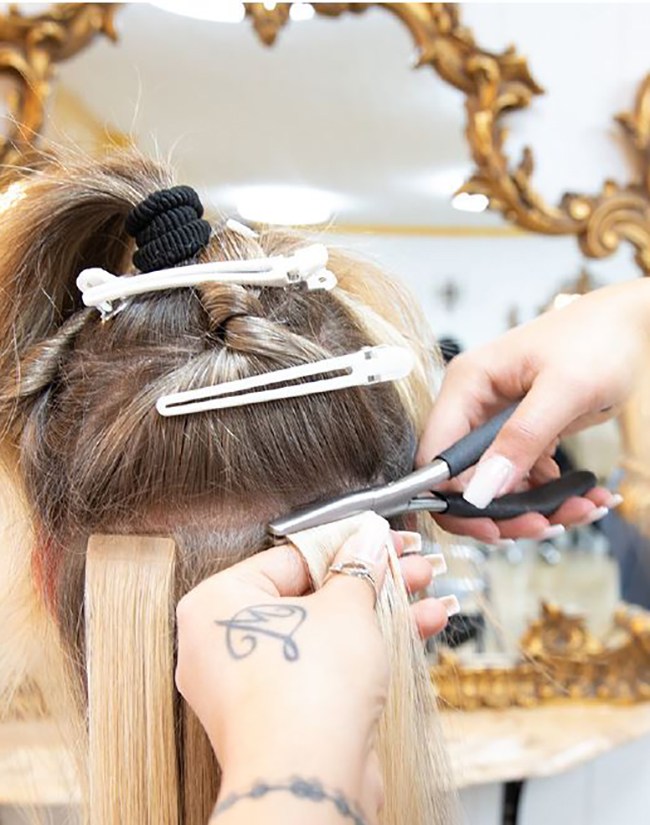 For whom are extensions suitable?
In principle, a hairdresser can insert a hair extension into any hairstyle. The basic requirement is only eight to ten centimeters in length. Extensions are also perfect for fine hair. Here they can provide more volume. The tapes and bonding's are gentle on the hair and therefore suit women with sensitive hair.
The extension specialists at "The Secret Society" skillfully use high-quality extensions made of human hair for hair thickening. They are attached under the top hair and thus provide more fullness. Extensions offer an incredible number of possibilities to conjure up a new look. Once the hair extension is in place, a trim follows. This is important so that there are no harsh transitions and human hair and extensions create a harmonious overall look.
How long do extensions last?
Nothing lasts forever. Unfortunately, this wisdom also applies to hair extensions. Extensions need to be renewed over time. This is the case when your own hair has grown so much that the connection points, bonding have become visible. Basically, extensions last from four weeks to six months, depending on the method, quality and hair growth. Rebonding can extend the durability. At The Secret Society, the longest durability is up to 24 months.
How much does a professional hair extension cost?
Depending on the number of braids and the chosen method cost hair extensions at The Secret Society are available from 245 euros. Take a look at our price list!
Clip-ins can be had even cheaper. However, permanent bonding's offer many advantages. The hair can be styled, curled and colored flexibly just like your own hair. At The Secret Society, we recommend our high-quality house brand of extensions. These are made of 100 percent Remy human hair and are very comfortable to wear. Choosing high quality extensions pays off in the long run. Make an appointment in our salon The Secret Society and let us advise you individually. Are you looking for high quality extensions? Let us advise you. Make an appointment via WhatsApp on: