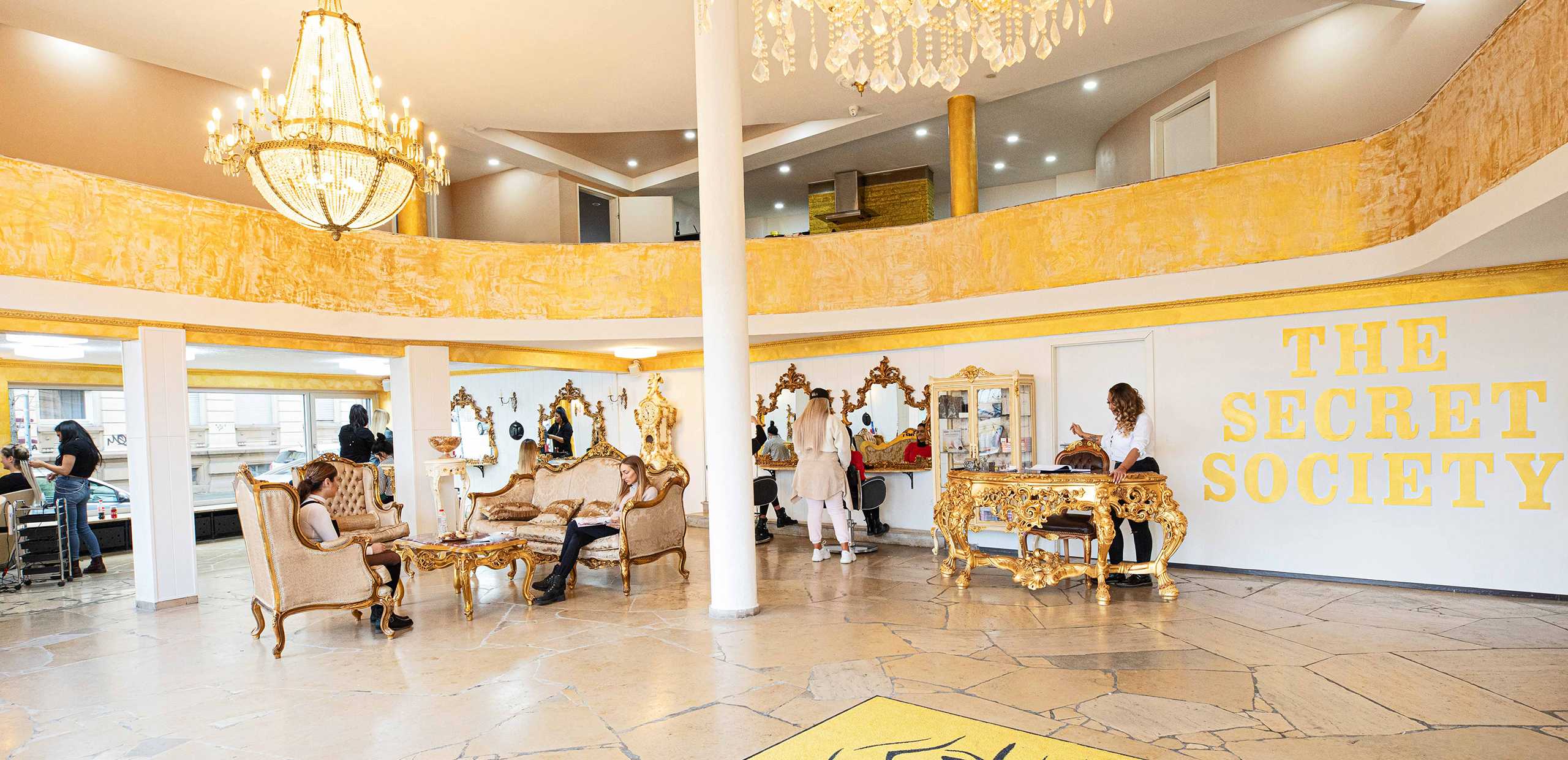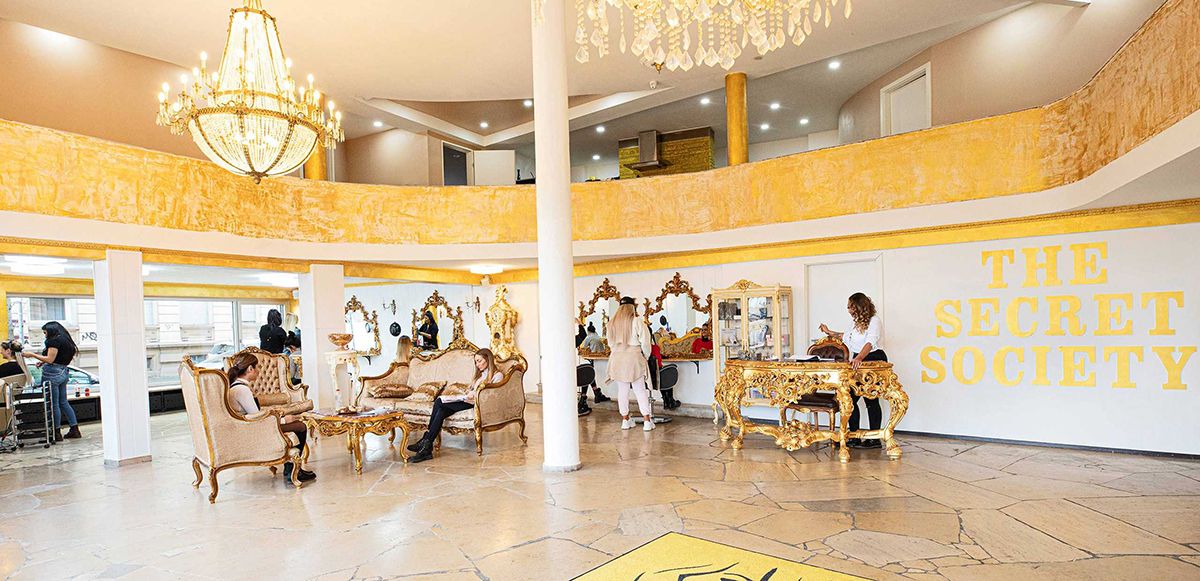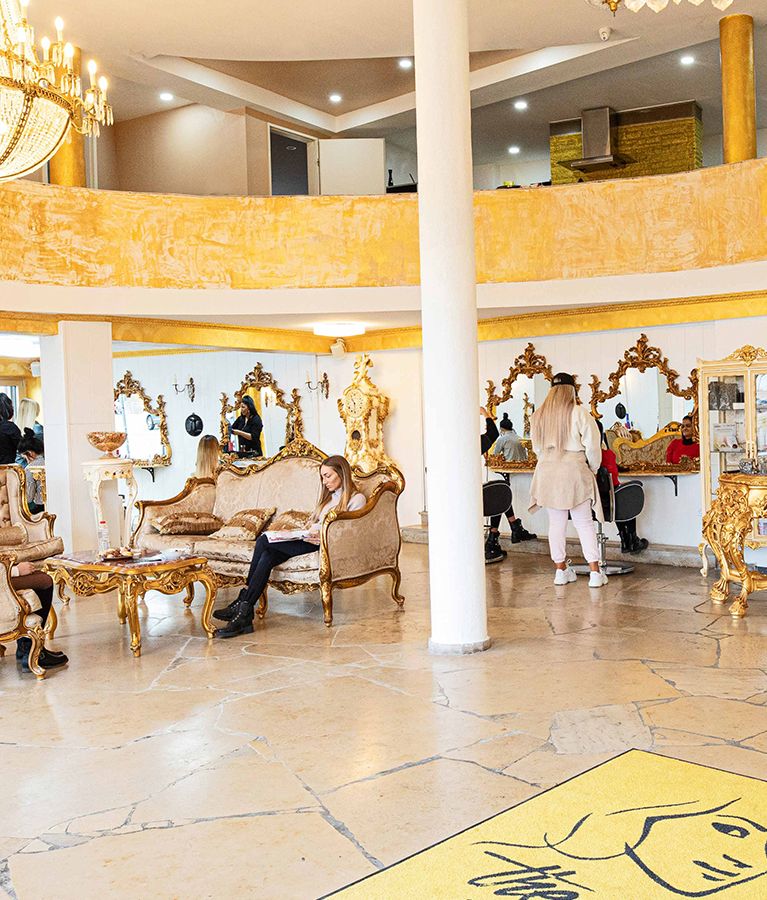 The Secret Society –
Your expert for hair extensions
Not every woman is blessed with full and magnificent hair. Does she therefore have to do without the hairstyle of her dreams, and thus her happiness?
 "Absolutely not," says our team at The Secret Society in Duisburg. If you dream of a full and flowing mane, you've come to the right place. Long waiting growth for natural hair is a thing of the past. The hairdresser "The Secret Society" offers its customers real high-quality Virgin Remy extensions that quickly make the dream of length, fullness and volume come true.
We will convince you with our first-class service. This includes:
We offer best prices with excellent quality, 100 % human hair extensions and long durability up to 24 months.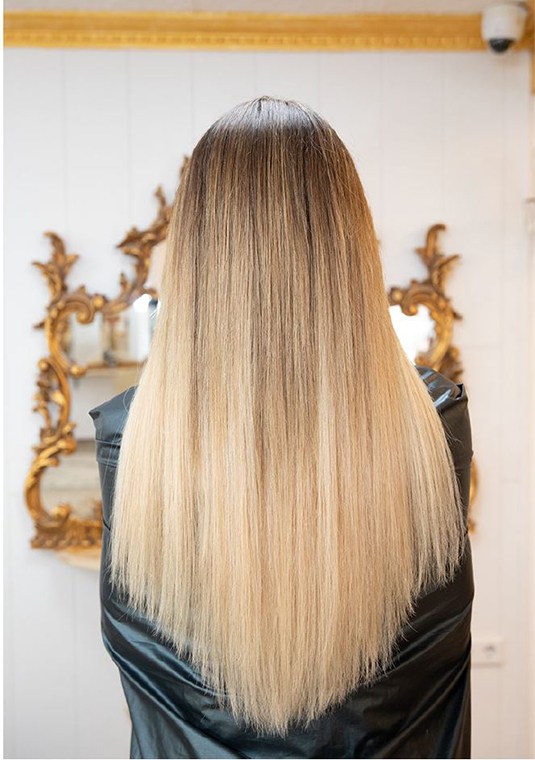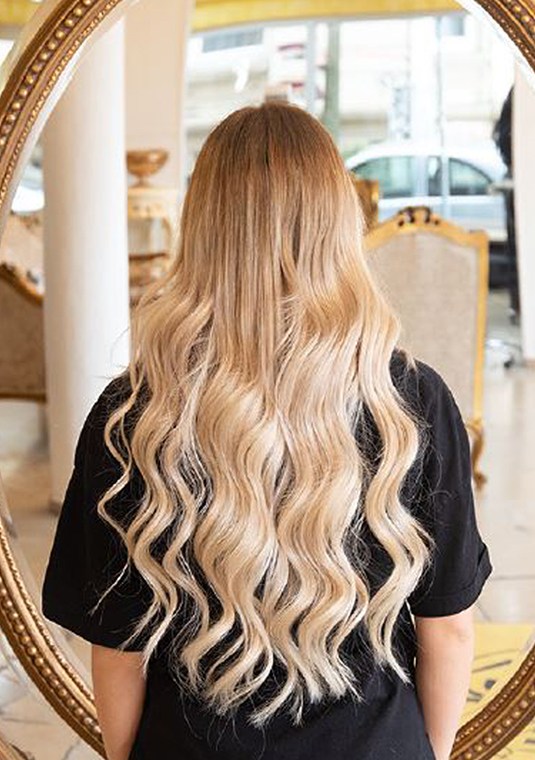 How does it work with hair extensions at the hairdresser?
Long hair for many women is considered the expression of femininity par excellence. Anyone who has ever let their hair grow to length knows that patience is needed. Especially in the transition phase, the hair is often strained and looks anything but attractive. A professional and luxurious hair extension offers great opportunities to wear and live the new look in no time. 
Hair extensions are attached to your own hair - and in such a way that they look deceptively real and natural. There are several methods that the hairdressers at The Secret Society salon use. Our hairdressers are fully responsive to the wishes of the client and implement her ideas.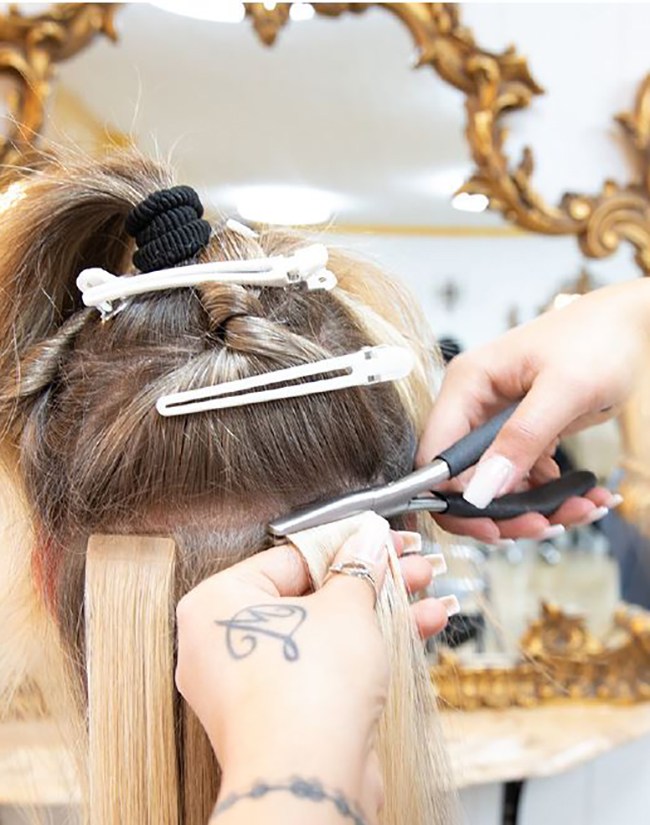 The highest quality method is the bonding technique. Here, the strands are individually attached to the roots with heat. For this purpose, thin plastic plates with keratin are inserted, which gently coat the natural hair. As a result, the extensions are hardly distinguishable from the natural hair and look very natural. This high quality is also reflected in the lifespan: hair extensions that are incorporated with the bonding technique last the longest. If you take good care of your new hair, preferably human hair, you can enjoy it for up to six months. The keratin bonds can also be put back up, which extends the shelf life to more than a year.
Tape-in extensions are gentle on the hair. Here, the bands and strips are simply glued to the natural hair with a double-sided adhesive strip. The professional speaks here of the sandwich method. Tape made of human hair is surrounded by hair from both sides. The tapes are particularly thin and adapt perfectly to the scalp for a comfortable feeling. It is not for nothing that tape-in extensions are very popular in hair extensions. This type of hair extension lasts about three months. You can put them back up if they threaten to grow out. Overall, tapes last up to a year. You can also put the tape-in extensions back up, which extends the shelf life to more than a year.
How long do extensions last?
Hair extensions need to be renewed over time. This is the case when your own hair has grown so much that the connection point, bonding's, become visible. Basically, extensions last from six weeks to six months, depending on the method. As so often, it depends on the right care. We at The Secret Society will be happy to advise you on how to properly care for your hair with extensions.
Extensions should be made of the best quality human hair. This has many advantages. Whether straight, wavy or curly, you can style them just like your own hair. Color and highlights round off the individual style. With care products from the hair salon and an extension brush, you can contribute a lot to the longevity and prevent, that the hair tangles or knots. Let your hairdresser advise you! At The Secret Society, some short-term bookings are possible at any time.
For those who only want a flowing mane for a party night or for a wedding, clip-ins would be an alternative. Individually tailored to the head shape hairpieces are put clip for clip in the hair. A clip in extension works much like a hair clip. The set can be easily and quickly removed and reattached as needed. We offer clip-ins only on order.
Extensions have another function besides hair extension: hair thickening. They can help even fine hair to have more volume. For this purpose, they are attached under the top hair, where they visually provide more fullness.
In principle, hair extensions can also be used on sensitive hair, as the adhesives and methods used are gentle on the hair. However, extensions also have their limits. If you have very thin, brittle and damaged hair, your hairdresser will advise you against hair extensions. This is the case, for example, if the hair is often blond. The hair could break under the weight of the extensions. In the case of hair loss is also advised against, because extensions could aggravate the problem. It is best for woman to get individual advice. For example, it is possible to have some hair extensions incorporated into the hairstyle as a trial. Ask in our salon The Secret Society
How long must my hair be for extensions?
The natural hair must be 8 to 10 cm long so that the hairdresser can work the human hair extensions into the hairstyle. It is very important, especially with short hair that the extensions are cut afterwards. An otherwise harsh transition is thus concealed. So if you think you can easily attach extensions yourself, you are ill advised. Do-it-yourself experiments quickly look artificial and do not last as long as desired. So when it comes to extensions, going to a professional is a must.
How much do extensions cost?
It depends on the number of strands, the length and the chosen method. Take a look at our price list! Our hair salon The Secret Society has its own house brand The Secret Society Extensions on offer. These tape in extensions are characterized by their high quality. They are made of 100 percent human hair and are very comfortable to wear. The Secret Society products are available in a wide range of colors and gradients. Choosing high quality extensions pays off. By the way, they can be used several times with good care. Make an appointment at The Secret Society salon and learn how extensions can also enhance the beauty of your hair.
Do you have any questions? Make an appointment with us for a consultation without any obligation! Just send us a message via WhatsApp on:
Lorem ipsum dolor sit amet, consectetur adipisicing elit, sed do eiusmod tempor incididunt ut labore et dolore magna aliqua. Ut enim ad minim veniam, quis nostrud exercitation ullamco laboris nisi ut aliquip ex ea commodo consequat. Duis aute irure dolor in reprehenderit in voluptate velit esse cillum dolore eu fugiat nulla pariatur. Excepteur sint occaecat cupidatat non proident, sunt in culpa qui officia deserunt mollit anim id est laborum. Sed ut
Lorem ipsum dolor sit amet, consectetur adipisicing elit, sed do eiusmod tempor incididunt ut labore et dolore magna aliqua. Ut enim ad minim veniam, quis nostrud exercitation ullamco laboris nisi ut aliquip ex ea commodo consequat. Duis aute irure dolor in reprehenderit in voluptate velit esse cillum dolore eu fugiat nulla pariatur. Excepteur sint occaecat cupidatat non proident, sunt in culpa qui officia deserunt mollit anim id est laborum. Sed ut
Lorem ipsum dolor sit amet, consectetur adipisicing elit, sed do eiusmod tempor incididunt ut labore et dolore magna aliqua. Ut enim ad minim veniam, quis nostrud exercitation ullamco laboris nisi ut aliquip ex ea commodo consequat. Duis aute irure dolor in reprehenderit in voluptate velit esse cillum dolore eu fugiat nulla pariatur. Excepteur sint occaecat cupidatat non proident, sunt in culpa qui officia deserunt mollit anim id est laborum. Sed ut
Lorem ipsum dolor sit amet, consectetur adipisicing elit, sed do eiusmod tempor incididunt ut labore et dolore magna aliqua. Ut enim ad minim veniam, quis nostrud exercitation ullamco laboris nisi ut aliquip ex ea commodo consequat. Duis aute irure dolor in reprehenderit in voluptate velit esse cillum dolore eu fugiat nulla pariatur. Excepteur sint occaecat cupidatat non proident, sunt in culpa qui officia deserunt mollit anim id est laborum. Sed ut